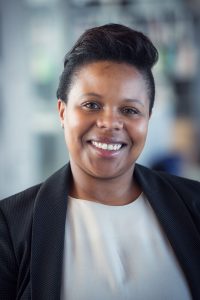 Lerato Chondoma, Associate Director
lerato.chondoma@ubc.ca
Lerato Chondoma hails from the Batuang Clan of ba ha Moletsane from Lesotho in Southern Africa. Lerato is a visitor in Musqueam Territory and has lived here for the last 9 years.
Lerato is the Associate Director for the Indigenous Research Support Initiative and plays a strategic role in providing support to Indigenous communities, researchers and other partners working on Indigenous research collaborations. She has several years' experience in community-based research, community development and relationship management. She has worked across a wide range of specializations including law, business and economic development, natural resources, community wellbeing, and government relations.
Prior to moving to Vancouver, Lerato practiced as a candidate attorney and legal consultant in South Africa, specializing in Labour Law and Employment Equity. Lerato has a B. Com and an LL.B from Rhodes University in Grahamstown, South Africa and an MBA from the Beedie School of Business at Simon Fraser University in Vancouver, Canada. She is interested in mechanisms and models of community-based research that support the global reclamation of Indigenous self-rule and increased self-determination
Alexis Okabe, Initative Coordinator
alexis.okabe@ubc.ca
Alexis Okabe is a member of Kitsumkalum, just one of the communities that make up the Ts'msyen Nation, and her family's clan is Ganhada, a house that is very dear to her heart. Alexis has been on Musqueam territory for the past six years and had worked in various areas of UBC for the past three years. After graduating with a B.A, Alexis had the opportunity to hold positions in both admissions programs and administration. In 2016, Alexis was hired as the Communications Intern for the Aboriginal Natural Resources Centre position then later moved to be the Initiative Coordinator for the newly formed Indigenous Research Support Initiative.