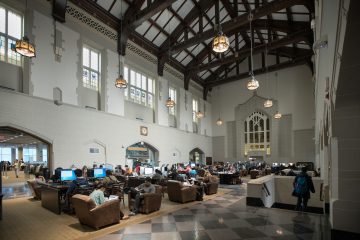 Last month we published the first part of this two-part Blog post about Indigenous Data, Information and Records. Part 1 provided an overview of this complex but important topic and included some basic definitions. This month, we take a closer look at two initiatives IRSI is involved in to co-develop solutions that will ensure that Indigenous data, information and records are collected and governed appropriately by UBC and similar institutions across the country.
Dialogues on Indigenous Data, Information and Records
In collaboration with the Residential School History and Dialogue Centre at UBC, IRSI successfully received a one-year grant from the Social Sciences and Humanities Research Council (SSHRC) to host a series of Dialogues on Indigenous Data, Information and Records in 2019. Bringing together those who work with Indigenous data and information—including Indigenous representatives, researchers, librarians and archivists—the Dialogues create a safe and open space to discuss important topics around the collection and stewardship of that data.
In addition to a National Dialogue on Indigenous research hosted by SSHRC in March, IRSI and the RSHDC have hosted three regional Dialogues to date: a Vancouver Dialogue was held at UBC's Robson Square location (January); a Kelowna Dialogue at UBC Okanagan (April) and a Prince George Dialogue at the University of Northern BC (May). All three events were well attended, with approximately seventy people at each session discussing topics such as privacy, access and security; ethics and reciprocity; infrastructure, resourcing and capacity; ownership and control; data governance and sovereignty; rights and repatriation.
A fourth Dialogue will take place in Victoria this fall, with results from the three spring events presented to key audiences to gather additional input. The combined feedback will inform a final report of the findings that will outline how we collectively see the landscape being transformed so that universities can work with Indigenous communities to respectfully, ethically and appropriately find ways toward Indigenous data sovereignty.
Read an interim Summary Paper produced after the Kelowna Dialogue.
Creating a model for data stewardship
In parallel with the Dialogues, IRSI is working in partnership with the BC First Nations Data Governance Initiative (BCFNDGI) and UBC Advanced Research Computing (ARC) to establish a BC First Nations Information Governance Centre that will serve as the regional organization for data collection, storage, sharing, usage and reporting standards for First Nations within BC.
The overarching goal of this initiative are to ensure data sovereignty and governance based on the OCAP™ principles, which respect Indigenous control, access and possession of data. Acknowledging the need for specific practices and protocols when working with First Nations, Metis and Inuit data, it is expected that this project will promote self-governance and self-determination for First Nations by protecting their needs, rights and jurisdiction over their information and research data.
The first phase of this initiative, currently in development, is a pilot project that will engage a number of First Nations in BC in order to determine ways that UBC and its partners can support data governance for Nations with unique needs, capacities and priorities. The pilot will involve the creation of an "interim" data warehouse at UBC for the data, information and records of the participating Nations. This warehouse may be thought of as a filing system, with a shelf dedicated to each participating Nation. The project participants will determine their individual requirements for their 'shelf' of data. Specifically, participants will determine the practices and protocols for the access, management, control and possession of their data sets. Some participants may choose to have their information stored and managed by UBC over the longer term, for example, while others may prefer to repatriate it and to store and manage it within their own communities. The project will support flexible and varied approaches.
It is anticipated that the Data Governance initiative will result in the creation of emerging better practices and protocols, including ethical engagement guidelines, for managing and stewarding Indigenous research data at UBC. Other outcomes will be cultural data sovereignty training and an overall plan for knowledge and capacity transfer.
Transforming the higher education sector
As we demonstrated in the first part of this blog post, the issue of Indigenous data sovereignty is complex and complicated. Data, information and records take on multiple forms and have been collected by institutions for many decades via extractive and non-reciprocal practices. At UBC alone there are 14 distinct repositories that house various types of Indigenous data and information.
Articles 31 and 32 of the United Nations Declaration on the Rights of Indigenous Peoples (UNDRIP) speak to the fact that Indigenous people have the right to maintain, control, protect and steward their data, and further that states must take effective measures to protect and exercise these rights. We acknowledge that that responsibility extends to academic institutions like UBC.
While the initial objective of the two initiatives above is to co-develop Indigenous-led models for the management of Indigenous data, information, and records housed at UBC, a broader transformation of how the entire higher education sector handles data is imperative. To this end, IRSI and its partners will be working to bring the results of these initiatives to the fore on both sectoral and national scales.
As always, we welcome the thoughts and opinions of the Indigenous research community on IRSI's initiatives. If you have any comments you'd like to share about this article, please send them to IRSI here.